Morning!
My cool vet, Tony, emailed me yesterday and asked:
Interested in rescuing a cockatoo or know anyone who is?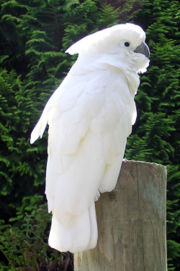 So before you jump ship and say "yes yes I want one" please review this excellent site www.mytoos.com. For a more scientific article I would recommend the wikipedia page which has a wealth of information describing this bird which is very close to the parrot.
For people interested note that you will need to live in Beijing or eventually China and pass an adoption test. I unfortunately already have too many lizards to bring one more animal at home (or I need a new home). I also have little information at the moment to which sub-species it belongs but will inquire today.