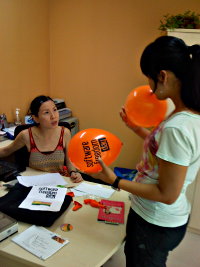 Thanks to our successful Software Freedom Day event last year I am now a Software Freedom International board member. SFI is the non-profit organization behind Software Freedom Day, the group of people helping each of the now 400+ teams worldwide making the event happening at the same date (3rd Saturday of September – 20th this year) every year since 2004!
And every year SFI, thanks to the help of its sponsors, sends schwags to each team for free. This year I was the lucky one picked to manage the making of those schwags. As you can see we are starting to receive samples, comparing them to last year schwag, making sure the balloons inflate well, that colors are right and printing is on par with our expectations. A big thank you to Pockey and Jennifer for their help on managing this, and Jason for helping out with artwork modifications.
In about a week time I hope we'll be able to start shipping and I'll ask for the generosity of my preferred community, the Beijing LUG, to give a helping hand to count and pack the almost 300 boxes we'll be sending all over the world!