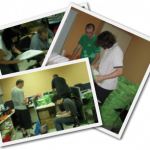 For the second consecutive year,
BLUG
is packing the schwags that pre-registered SFD teams are entitled to. We're actually having 12% more pre-registered team this year with a very different country split (compared to 2008). The volunteer group just made it to
BLUG
office and are working diligently on each team pack. Our "movie maker", author of the
Beijing SFD '07 video
, also joined and is documenting the whole process. Thanks to everyone from BLUG and hopefully all the packs will make it on time for your SFD events!