Posted by
Fred Muller
in
Free Software
,
Reptiles
, tags:
FOSS
,
GNOME.Asia
,
life update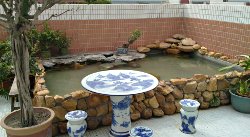 It's been now 6 months that Pockey and I have left Beijing and moved to Shantou. A great decision if you ask me, and we can now enjoy summertime for about 9+ months of the year (I've been wearing only shorts since I arrived – not the same pair though

), our lizards and turtles get to see and appreciate the real sun (which is much better than UV and heat lamps like we had to have in Beijing) and they even have a small pond where they can bathe and swim. It's a real pleasure to be finally able to have them live almost like in the wild and give them so much space, plants and trees to climb on (about 5 times the space on the photo). The iguanas however still prefer to be hand fed (seems someone has been spoiling them), and living in a climate closer to where they come from allows us to find much more diversity of salads and fruits all year long. Again another positive change from Beijing. On this note I guess that the fresh marine air we have here is also a lot healthier for both the reptiles and us…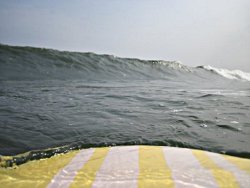 On my end I have been able to finally refocus on my contributions to the Free Software projects I am involved in such as Software Freedom Day and GNOME.Asia. I haven't been able to catch up with all of them yet but it's well on the way. I also had the chance to meet Richard Stallman in Shenzhen in August "all by myself" and it was a rather pleasant and enriching experience. I am now planning for a new release of RUR-PLE, some work on Greenboard and maybe some integration with the GNOME Education suite. I also attended the GNOME.Asia Summit in August for which the GNOME Foundation generously paid all my expenses to go there and present my work with GNOME applications in Education. I met a wealth of great people and there is definitely a lot more to write about (next post?). I should probably also start a GNU/Linux User Group, as I have to admit to miss the fun of the Beijing LUG and all my buddies there. Last but not least Shantou is also bringing me the opportunity to surf a lot more than Beijing!

So a view like this one is something quite common and which I definitely appreciate.
Oh and yes, I've also caught up with cooking (which I did a lot when I was living in France back then – don't ask when!). Tempted now? Well drop me an email if you're in town and we'll take you around.

2 Comments »