Posted by
Fred Muller
in
Free Software
,
Linux
, tags:
a better world
,
community
,
Gdium
,
Gdium.com
,
Loongson
,
Mandriva
,
OLPH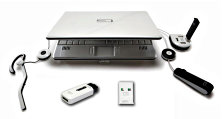 Seems like this Christmas will bring me a great gift: my time back! As you might have noticed I haven't been able to write much, nor was I able to attend any of the last 6 months
BLUG meetings
or even spend time with my lovely girlfriend! All this time was not wasted, I have in fact joined a great new project managed by
Dexxon
, the company making the
Gdium
, which goal is to "provide access to information affordable to all, so that all can exercise their right to education". So we're building a 10″
MIPS
based netbook (Loongson based to be precise – the Chinese CPU) running a customized version of
Mandriva Linux
(MS Windows won't run on it) and developing an online platform to promote
Open Education
and provide the means to use Open Source Software and the community to build sufficient resources to make this dream come true. The "Gdium.com" foundation is being set up to manage the resources and ensure the durability and non-profit side of the project. 3% of all Gdium sales will go to finance that foundation. Of course
we
want to involve the community and developers straight from the beginning and as such are starting the
"One Laptop Per Hacker" program
where one can purchase an early release of the Gdium (with
some known issues
) at 250 €. So if you're feeling like helping out and making this dream happen, please
join us!
9 Comments »